The foreign versions described below contain The Bordello Scene which was cut from U.S. releases.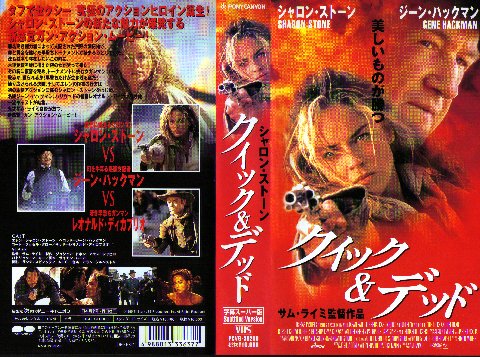 The cover of the VHS Japanese version.
---
Now available on DVD - but THERE'S A CATCH either way if you live in the U.S. or Canada:

The Australian version is available, BUT it's in the PAL format with region 4 encoding. It is not playable on most U.S./Canada DVD players. Multi-national/multi-regional DVD players are available (look on Ebay), but unless you went out of your way to obtain one, you probably don't have one. Check your player's documentation if you don't know for sure. This web site's owner is not responsible if anyone purchases a DVD for a machine which cannot play it, so order this at your own risk

The Japanese version is available, BUT Amazon.co.jp is in Japanese. Japan is an NTSC country, like the U.S. and Canada, BUT, when it comes to DVDs, Japan is a region 2 country, while the U.S. and Canada are region 1. It may be possible to reset the region encoding of your DVD player, or set it to play any region. Do a web search for your make and model, and you may find instructions.
If you're interested in obtaining a high quality copy of the uncut version, widescreen with no subtitles, playable on U.S. and Canadian DVD players or on VHS,
Send an E-mail
There's also now a Companion Video
made up from newly-rediscovered tapes I made around the time the movie came out. It includes:
Features from various newsmagazine shows, local TV and other sources
On-location, behind-the-scenes video of the movie being made
Interviews with Russell Crowe, Sharon Stone, Gene Hackman, Sam Raimi and others
A glimpse or two of the Wedding Scene (which was also cut from the movie) - one show was on set the day it was being shot
A look at the firearms used in the movie with the Head Armorer, Thell Reed
Various reviews of the movie
A segment from The History Channel's Wild West Tech about the gunfight between Mattie Silks and Katie Fulton as described in the page about The Wedding Scene.
and more. There's about a half hour on The Quick and the Dead. There's also video from the day Old Tucson Studios burned down in 1995. It's NOT the set where The Quick and the Dead was made, but, following local TV news reports, there are some interesting looks at the history of Old Tucson which dates back to the 1939 film "Arizona".

Total running time is over one hour.