Souvenirs
I picked up a few keepsakes along the way.

NOTE: Props from the movie were found after having been discarded. Nothing was "stolen".
---
(Click on any photo with a border for a larger version)
My Darkman ballcap, autographed by Sam Raimi (who drew a picture of a cowboy) and Bruce Campbell (on the letter "K").
---
Some of the money that was the prize for the gunfight competition.
---
A shotglass from the saloon.
---
A doily from Herod's house. Notice the burned edge from the explosion.
---
Some brass collected from around the set. Much was used. Some of this was fired by Gene Hackman himself.
---
A ticket stub from seeing the movie at the theatre. This may have been from the first time. I saw it 9 times on the big screen.
---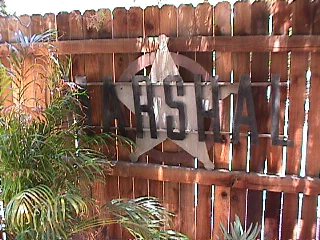 The best one of all. This "Marshal" sign is seen very prominently twice in the movie. Once at the beginning when Ellen first rides into town and again in a flashback of the Marshal's (Ellen's father, played by Gary Sinise) office. I found it in a discard pile while working on a TV series a couple of years after the production of The Quick and the Dead.
---