Sharon Stone
Sharon Stone was highly professional. She's dedicated to her craft. Since she was also a Producer of, and an investor in the movie, she was concerned with more than just her role, but she never flaunted it. She would make an occasional suggestion to the Director, but those were always very constructive ones. She was nice, a regular person. She was not egotistical, fussy or aloof.

A case in point: Since she was in Tucson over Christmas, Sharon Stone helped serve Christmas dinner to the Tucson homeless. See the article in the Arizona Daily Star.

One day we were shooting rain scenes with extras. It was a cool day, so between takes the extras were wet and cold. There were heaters set up in the saloon. During the first break from shooting, the extras rushed into the saloon and gathered around the heaters. Some Production Assistant attempted to chase the extras away from the heaters, saying they were only for the principles. Sharon Stone interceded, insisting that, since these people were wet and cold, they be permitted to warm up near the heat.

Sharon's brother Michael played the head Councillor.
---
(Click on any photo with a border for a larger version)
Sharon coordinates extras for a group photo:
---
Sharon bought the horse she rode in the movie, Magic, and rode him frequently: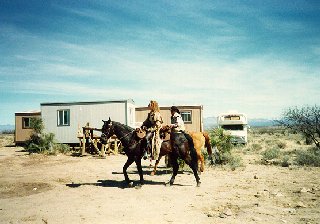 ---